Mobile Device Security Settings
Please upload screenshots that demonstrate that your smartphone (Android or iOS) follows required security practices.
Android
How to encrypt your Android device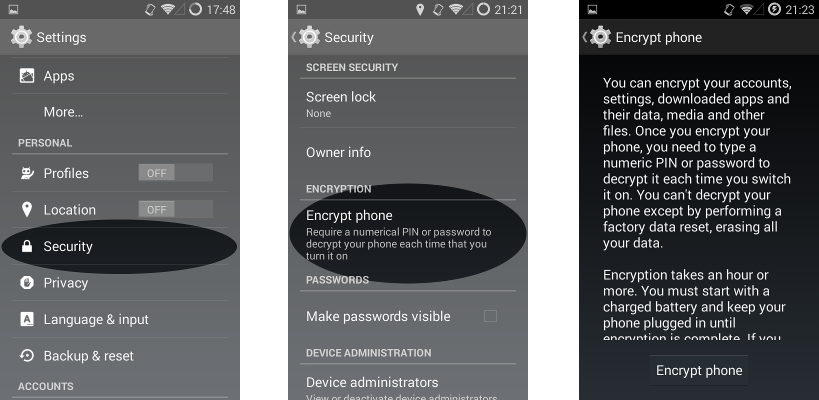 Plug in the device to charge the battery (required).

Make sure a password or PIN is set in Security > Screen lock.

Go to Settings > Security.

Press the "Encrypt phone" option.

Read the notice and press "Encrypt phone" to start the encryption process.

Remember to keep the phone plugged in until complete.
Take a screenshot
Open the screen that you want to capture.
Depending on your phone:

Press the Power and Volume down buttons at the same time.
If that doesn't work, press and hold the Power button for a few seconds. Then tap Screenshot.
If neither of these work, go to your phone manufacturer's support site for help.

At the bottom left, you'll find a preview of your screenshot. On some phones, at the top of the screen, you'll find Screenshot capture .
iPhone
How to encrypt your iPhone

Go to Settings > Touch ID & Passcode.
Press "Turn Passcode On" if not enabled already.
Press "Passcode options" to choose a custom numeric or alphanumeric code (recommended).
Confirm your device is encrypted by scrolling to the bottom of the Settings > Touch ID & Passcode screen. You should see the "Data protection is enabled" message.
How to take a screenshot on iPhone models with Face ID
Press the Side Button and the Volume Up button at the same time. 

Quickly release both buttons.
After you take a screenshot, a thumbnail temporarily appears in the lower-left corner of your screen. Tap the thumbnail to open it or swipe left to dismiss it. 
If this does not work, read the other methods to take a screenshot.